Dog Grooming Services in Michigan City, IN
If you are trying to find a pet groomer near Michigan City, IN, then look no further than The Snuggery. Our experienced dog groomers provide individualized service with a tender touch to have your pet looking and feeling their finest. We groom all kinds of dogs. Whether your dog is needing a simple wash and brush visit, or it's time for a dab of special spoiling, our faithful team is here to help with every one of your needs for pet grooming. We provide a sanitary, safe, and friendly place to clean your dog. At the time of booking, please specify your dog's age, temperament, and size category to better help us match you with the correct groomer and solutions. Book your appointment today.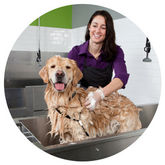 Full-Service Grooming
Your pet is going to be given a bath, blow dry, brush out, haircut, ear cleaning, nail trim, choice of bandana and available fragrance, and be beautiful head to toe.
Small: Starting at $45
Medium: Starting at $50
Large: Starting st $65
X-Large: Starting at $80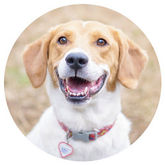 Bath & Brush
This service includes bath, blow dry, brushing, ear cleaning, nail trim, choice of bandana, and available fragrance.
Small: Starting at $30
Medium: Starting at $35
Large: Starting at $40
X-Large: Starting at $60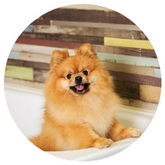 Puppy Trim
First Puppy Cut-For puppies under 5 months- Sm:$20 -Md:$30 -Lg:$40
Your puppy will be pampered with a bath and light trim, nail trim, and ear cleaning. This is the perfect introduction to the grooming process.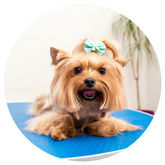 Spa Add Ons
Pampered Pet Package - $20: Blueberry facial scrub, shampoo, and blueberry clove conditioner, blueberry clove cologne, paw butter, and frosted gourmet cookie to go.
Blueberry Facial - $5: This scrub cleans and brightens. Exfoliates skin to remove tear and beard stains and stains around the muzzle. Smells great!
Organic Paw Butter - $4: Nourishes, heals and protects dry, rough and cracked paw pads. Ideal for dry noses too!
Blueberry Clove Cologne: $2 added to bath/groomSugar Scrub - $6: Amazing exfoliator, great way to alleviate clogged pores and heavy flaking.
Hydrating Butter - $5: Leave in conditioner for a silky smooth coat.
Pick any three single spa add ons: $10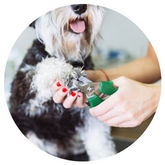 Add On Services
Nail Trim: $12 (Call ahead for availability)
Nail Grinding: $15 ($5 additional with bath/groom)
Gland Expression: $10
Ear Plucking: $10
Oral Hygiene $12 (teeth brushing and dental spray)
Deodorizing Shampoo: $10
Flea Shampoo: $10
Medicated Shampoo: $10
Deep Conditioning Treatment: $10 added to bath/groom
DeShedding Treatment: $20
Sanitary/Feet trim: $10 added to bath
DeMatting: 15-minute free dematting with a full groom (Additional $10 per 15 minutes after)
Come visit us for the best pet boarding & dog grooming in Michigan City, IN.